Hi, as you all know (most likely anyway) the Commonwealth games have offically started. Now i'm not the kind of girl in the classroom to be amazing at athletics, terrific at tennis etc. However I do generally enjoy sport. So I thought to myself, 'Why not support sport with fashion?' Then on came the light bulb, the boom, the flash. That is the very interesting back story of this post. So, if I haven't already bored you to death then on with the post.
Depending on your budget there are many ways to get glammed up. (So your little piggy bank needn't get broken. That's the hammer crossed off your shopping list...) Starting with gold nail polish. I really, and I mean really love this polish. It is Barry M Nail Effects Gold Foil. It is £3.99 from Superdrug. It is one of the longest lasting nail polishes I have tried. It looks amazing with practically everything, and even better it actually looks like foil. Seriously, some polishes are said to look like something when they nearly never do. Really good work Barry M!
This product needs shades to see it. It is the MUA Eyeshadow Palette Going For Gold it is £3.99 and is worth every penny. It doesn't just contain the colour Gold. It is such a versatile palette. It contains Bronze's and silvery colours. Perfect when you're setting off on your holidays and need to pack your make up bag sparingly. I find it hard enough trying to decide which black mascara. I mean 5 is so not too many right? *Yes, yes it is*
How about the smell of gold? Well, not exactly speaking.... I am talking about the sweet, amazing smell of Kim Kardashian Gold Eau de Parfum 100ml. It is one you will keep in your handbag all day long. Yes really, all day long. However it will also look chic on the dressing table too. It is perfect for almosy everything. It is £39.95 from Debenhams. So if your ready to splash your cash, it is a good idea to have it in mind.
Sometimes you can get bold of the same old black eyeliner. Well not any more! Move over boring black eyeliner and welcome this brilliant gold eyeliner. It is the Barry M Bold waterproof eyeliner in Gold. It retails for £3.99 from Superdrug
It is perfect for night and if your feeling adventurous for day too. It is the perfect addition to your make up bag. For a larger impact you can even add the MUA palette too. Get your gold on!
Since I have included a few beauty products, I think i'd better include some fashion pieces too, as I can't leave these babies out. Starting with
Gold Laser Cut Open Toe Wedges which retail at £27.99 from New Look. If your making last minute holiday shopping plans, then I advice you on popping these in your shopping bag. Perfect for casual wear or evening wear, they are a brilliant addition to your suitcase. Get bold in gold.
Be brave like a lion in roaring gold. This Gold tone Lion statement ring is perfect for those times when you feel like dressing on the wild side. It is a stand out piece, so you can let this ring do all the talking. It can also be a cool conversation starter too. Pair with a dress and killer heels, or jeans and a tee it will look amazing which ever way you choose. See you at the shopping tills.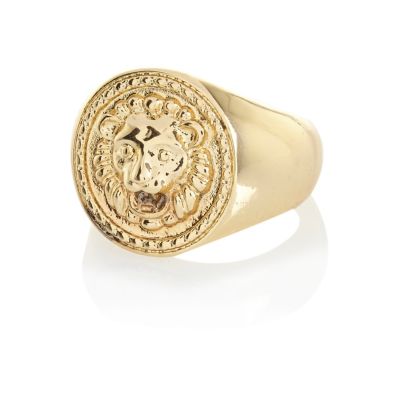 I hope i've given you some inspiration for when your next shopping. Let's support team GB the fashion freak way. Piled up in gold with serious style envy. Now if only styling outfits was a sport...
Love,
That Fashion Freak Mill
xox